Nuffar — Milan
Siba Sahabi releases her short film Nuffar.
Special thanks to: Goof van Beek (engineering), Adriaan de Man (coding), Merijn Koelink (camera), Gerben Kruk (editing) and Machinefabriek (music).
Nuffar is realized with the kind support of the Creative Industries Fund NL. The project will be on show at the Salone del Mobile as part of the 5vie exhibition.
09 - 15 April 2019

Moirai — Rotterdam

How do we perceive time? Especially in environments like hospitals? And how can we improve the waiting experience of patients and visitors? Siba Sahabi will present her ongoing multicultural and interdisciplinary research on this topic at theater of Rotterdam, 28th of March. The event 'Bring it on!' is organized the Stimuleringsfonds Creatieve Industrie. For more information please visit this link.

The researched entitled 'Moirai' is named after the three Greek goddesses of destiny who symbolize time through the thread of life: Clotho spins it, Lachesis measures it and Atropos cuts the thread.
28 March 2019


Nuffar — Eindhoven

Siba Sahabi launched her new work Nuffar during the Dutch Design Week 2018 at the Kazerne. The audiovisual installation expresses the relationship between music and its graphical notation.
Soundscape by Rutger Zuydervelt, coding by Adriaan de Man and engineering by Goof van Beek.
Nuffar is generously supported by the Stimuleringsfonds Creatieve Industrie
20-28 October 2018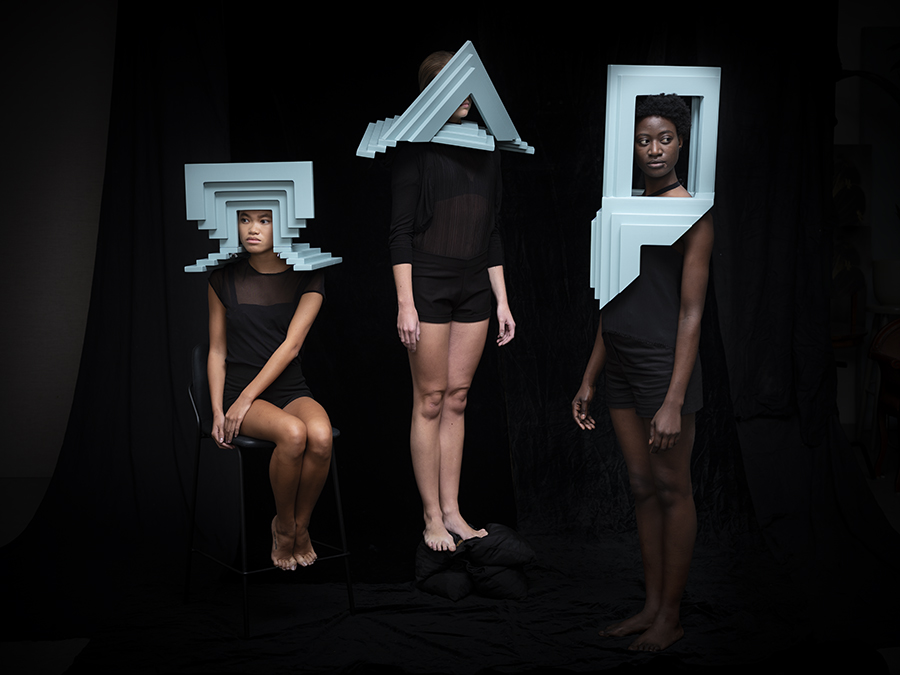 Persona — Amsterdam

In Oktober the photo shoot of the project Persona took place with: Arjan Benning (photography), Gloria Ama Anim, Lisa Koning and Daniëlle Dijkers (models) and Meltem Sahin (make-up and hair).
4 October 2018



Homo Faber — Venice

The Michelangelo Foundation for Creativity and Craftsmanship is an international non-profit entity that celebrates and preserves master craftsmanship. Jean Blanchaert (curator) and Jacques Rey (head of strategic relationships) invited Siba Sahabi to take part in the upcoming exhibition entitled Homo Faber. The exhibitions will take place in September as part of the Biennale Architettura in Venice on the beautiful island San Giorgio Maggiore. The exhibition presents diverse high-end-craft from the European continent including Siba's blue vases entitled Blue Alchemy.
14 - 30 September 2018



Silenia — Treviso

Italian label Silenia stands for elegance, functionality and simplicity. Stylists Luigina Pilloni and Laura Pasqualato added some playfulness to new image campaign. Among others through combining the classy furniture with Siba's hand-crafted vases and lamps.
January 2018




Perspectives — Dubai
Siba Sahabi releases her short film Perspectives.
Special thanks to: Luuk van Laake (light animation), Chris Rijksen (camera), Gerben Kruk (editing) and Banabila & Machinefabriek (music).
Perspectives is realized with the kind support of the Creative Industries Fund NL. The project will be on show at the Dubai Design Week as part of the ABWAB exhibition.
13- 18 November 2017

Obscura — Cairo

Filmmaker Chris Rijksen is documenting Siba's project 'Obscura' in Cairo. The project expresses the interaction between the Middle Eastern and European culture through art and science. 'Obscura' will be launch
in August 2017 at the X-Bank in Amsterdam.
The project is realized with the kind support of the Amsterdams Fonds voor de Kunst, Netherlands-Flemish Institute in Cairo and Stichting Stokroos.
Special thanks to the Contemporary Image Collective and the Embassy of the Netherlands in Egypt.
20 July 2017


Dutch King and Queen — Milan

Dutch king Willem-Alexander and queen Maxima were introduced by Italian talent scout Rossana Orlandi and Dutch trend watcher Lidewij Edelkoort to contemporary design made in the Netherlands, among others to Siba's series of vases entitled Blue Alchemy. The state visit at Galleria Rossana Orlandi in Milan was documented by Dutch news service NOS.
23 June 2017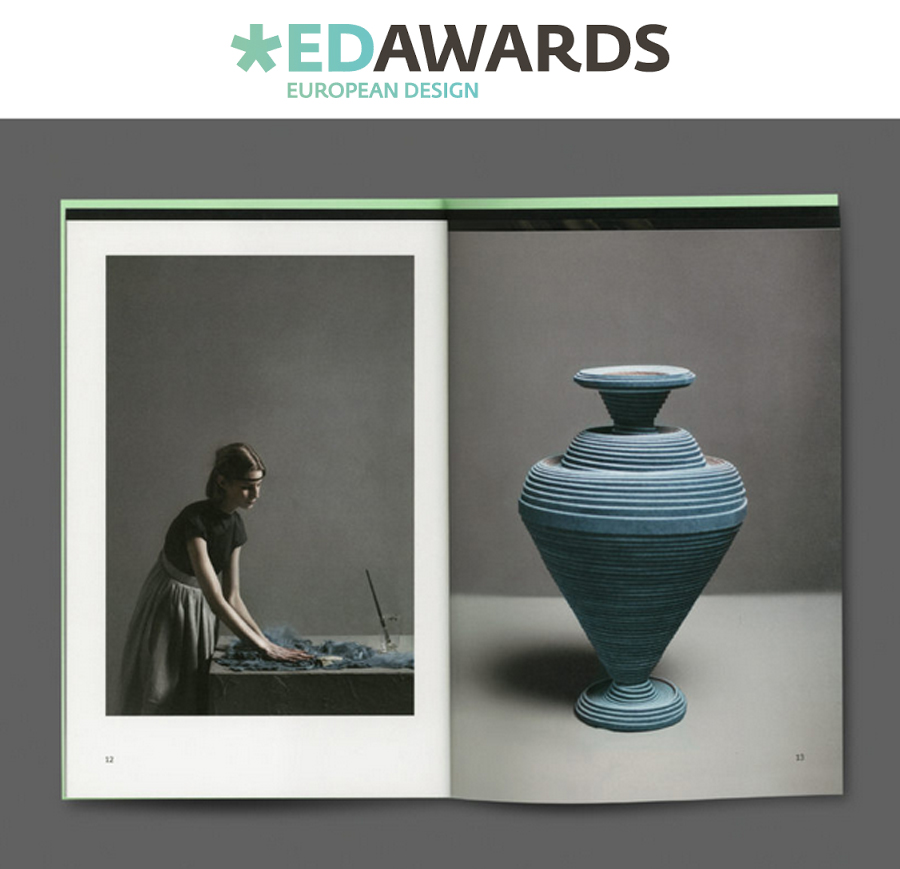 European Design Awards — Porto

The GOLDEN EUROPEAN DESIGN AWARD for the best brochure goes to graphic designer Thijs Verbeek for the booklet entitled 'Siba Sahabi'. The layered positioning of the paper in the back of the booklet is a reference to the type of craft that Siba uses. This element of creating layers returns in the inside of the booklet.
The 'European Design Awards' are given each year to the best examples of communication design in Europe from participants throughout the continent. The publication is realized with the kind support of the 
Creative Industries Fund NL.
27 May 2017



Academic Medical Center — Amsterdam

The famous art program AMC Kunstcollectie of Amsterdam's largest hospital is presenting the project Tarab.
Supporting the well-being of its clients the Academic Medical Center established a collection of more than 600 art works and organizes exhibitions throughout the institution.
30 April - 22 August 2017


Salone — Milan

You are cordially invited to visit the upcoming exhibition at Galleria Rossana Orlandi during the Salone design week where Siba Sahabi will launch her new series of performative light sculptures. The morphing light animation is developed in collaboration with Digiluce. The project is realized with the kind support of the 
Creative Industries Fund NL.
4-9 April 2017



artgenève

artgenève is an art exhibition, which aims to establish an artistic platform in the - French-speaking Switzerland - at the very forefront of contemporary art, modern art and contemporary design - to pay homage to the requirements of the Lake Geneva region's many art-lovers and collectors.
The curated exhibition including the project Mudéjar by Siba Sahabi is possible thanks to Roehrs & Boetsch.
26-29 January 2017



NYCx — New York

The exhibition Ventura New York at Wanted Design in Manhattan has come to an end. An immense thank you to the thousands of visitors that came to visit and of course to the Consulate General of the Netherlands, Creative Industries Fund NL and Organisation in Design that made the presentation possible.
13-16 May 2016


Tate Modern — London

Rob Stolk presented his newest publications at the art publishing fair Offprint, including Siba's portfolio designed by Thijs Verbeek and with many beautiful photos taken by Arjan Benning, Lisa Klappe and Annemarijne Bax.
20-22 May 2016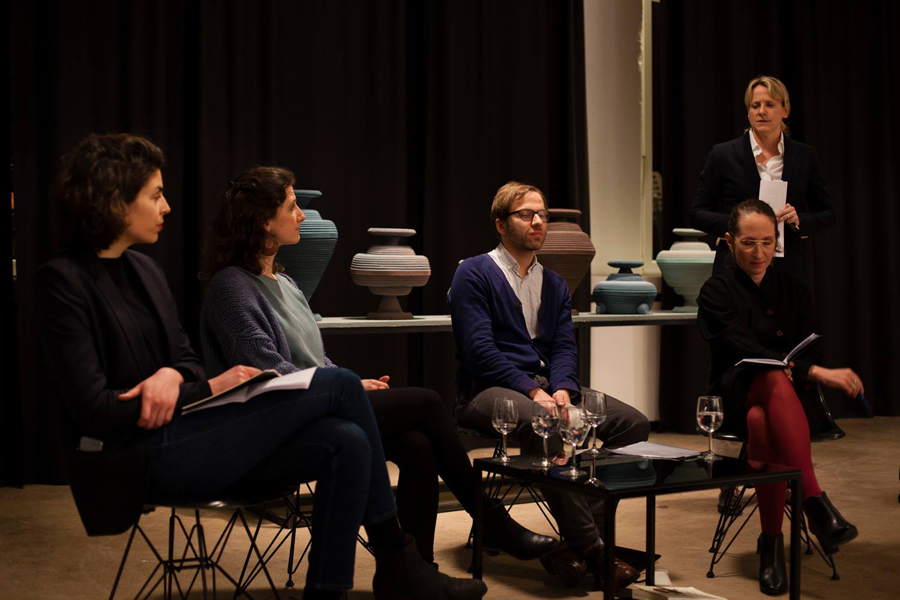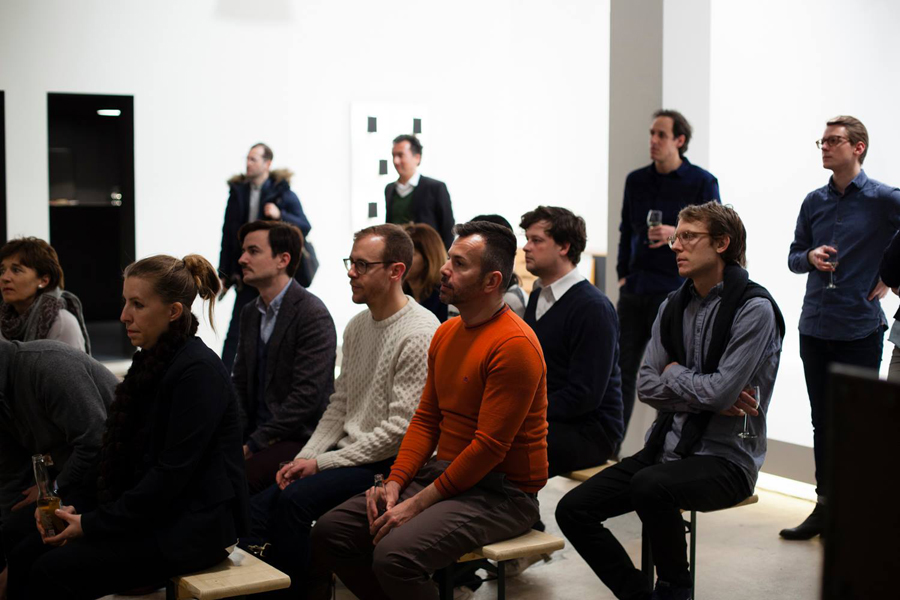 Gallery Roehrs & Boetsch — Zürich

Design journalist Susanna Koeberle, art historian Yasmin Afschar, design curator Burkhard Meltzer and Siba Sahabi discussed Siba's work in conjunction with the exhibition Siba Sahabi 2013-2016 at Gallery Roehrs & Boetsch.
2 March 2016



artgenève

Geneva hosts once a year an art fair called artgenève. This year the fair presented in total ten solo exhibitions of various artists and designers including Damien Hirst and Siba Sahabi. The solo show of Siba Sahabi was possible thanks to Gallery Roehrs & Boetsch.
28 - 31 January 2016



Al-Andalus — Amsterdam

In September the film shoot of the project Al-Andalus took place with: Arjan Benning (film/photography), Nabila Meknouzi, Sereena Natoewal, Zeynep Gunduz (models), Anne de Grijff (fashion design), Rutger Zuydervelt (music)
and Gerben Kruk (editing).
19 September 2015



The Hamptons — NY

Market Art+Design launches in July of 2015 the east end's premier modern and contemporary art fair. Market Art+Design showcases top tier art presented by the country's best galleries enhanced by a striking and tightly curated design component pulling from dealers and designers from around the world including Siba Sahabi's felt sculptures
via Gallery Letternoon.
09 – 12 July 2015



Art Dubai


Over the last eight years, Art Dubai, the leading international art fair in the MENASA (Middle East/North Africa/South Asia), has become a cornerstone of the region's booming contemporary art community. Recognised as one of the most globalised meeting points in the art world today, Art Dubai places an emphasis on maintaining its intimate, human scale while foregrounding quality and diversity. The exhibition by Art Factum Gallery includes works of Spanish painter Alvarez Basso, French/Moroccan photographer Leila Alaoui, Lebanese photographer Lamia Joreige, Lebanese/Austrian photographer Tanya Traboulsi and felt vessels by Siba Sahabi.
18 – 21 March 2015



Rosenthal — Munich


In her delicate felt pieces, Siba Sahabi merges Orient and Occident to create interior objects that are as original as they are skillful. For renowned porcelain manufacturer Rosenthal, Sahabi has translated her distinctive tabletop accessories into sensuous objects of porcelain art, bridging the gap between individual craftsmanship and industrial design.
The exhibition Transformation is part of the Munich Creative Business Week.
26 February 2015



Museum für Kunst und Gewerbe — Hamburg


The MKG Arts and Crafts Fair sees itself as a forum for the highest quality in the design and execution of art and craft as well as an experimental testing ground for up-and-coming young artists. Siba Sahabi's room divider Mudéjar and felt vases Between Two Rivers are part of the Brinckmann Förderpreis exhibition.
28 November - 7 December 2014



Design Biennial — Istanbul


During the second Istanbul Design Biennial The Future Is Not What It Used To Be, curated by Zoe Ryan, SALON/dantel presents work of artists and designers from The Netherlands which is related in a broader sense to Dantel (Lace), in conjunction with work of Turkish participants selected by Özlem Yalım Özkaraoğlu. The series of sculptures by Siba Sahabi entitled Tarab and the short film Qaina are part of the exhibition.
SALON/dantel is exclusively shown in and around Adahan Hotel in the district Beyoglu.
01 November - 14 December 2014



Art Factum Gallery — Beirut


This year Art Factum Gallery's artist selection includes thirteen international and local,
established and emerging artists: Leila Alaoui, Asif Ahmed, Joanna Andraous, Mustapha Azeroual, Lamia Joreige, Rhea Karam, Atif Khan, Francois Lamore, Siba Sahabi, Caroline Tabet, Claire Trotignon, Vivian Van Blerke, and George Zouein.
5 - 28 November 2014



Tarab — Amsterdam

Thijs Verbeek designs a brochure showing the acrylic sculptures of designer Siba Sahabi.
November 2014


Gallery Archea — Amsterdam


It is difficult to imagine that the Greek goblet on the right side was created 2550 years before the white paper vase on the left side. Inspired by Antiquity is the title of a new exhibition presented by Archea Ancient Art. Greek, Roman and Egyptian archaeological treasures will be combined with paper and felt objects by Siba Sahabi.
Archea Ancient Art is located in Amsterdam in the heart of the fine art and antiques district Spiegelkwartier close to the famous Rijksmuseum and van Gogh museum.
Preview: Friday October 10th, 15.00 – 18.00, Vernissage: Saturday October 11th, 12.00 – 17.00
Finissage: Sunday October 12th, 12.00 – 17.00



UNESCO — CID — Athens


The short film Qaina will be screend at the 37th World Congress on Dance Research. The CID congresses are the largest gatherings of dance specialists world-wide for practitioners, choreographers, researchers, and journalists.
5 July 2014



Gallery Oode — Amsterdam


A new gallery space along one of the most beautiful canals of Amsterdam was the start of a brand new concept called OODE where contemporary design and 'orphaned' art come together.
Initiated and curated by DUTCH DESIGN YEAR in collaboration with STICHTING ONTERFDGOED.
Singel 159, Amsterdam



Stichting KunstFort — Asperen


In May the film shoot of the project Qaina took place at the Stichting KunstFort Asperen with:
filmmaker Niels van den Top, photographer Lisa Klappe, cinematographer Paul Damen, designer Siba Sahabi, assistant Stefanie Zweifel, and dancer Sara Toscano. Choreography by Iván Pérez Aviles and music by Rutger Zuydervelt.
16 May 2014



Nomination by MK&G Museum — Hamburg


Among a group of young and talented designers Siba Sahabi is nominated by the Museum für Kunst und Gewerbe for the Förderpreis 2014. The price will be handed out on the 27th of November at the museum in Hamburg.
Feel free to join the opening of the fair MKG-Messe Kunst und Handwerk.



Monument Oude Kerk — Amsterdam


Siba Sahabi's series of five abstract sculptures Tarab and the short film Qaina are now on show at Amsterdam's oldest building the Oude Kerk in Amsterdam as part of SALON/Big Bang.
Since May 2010 SALON/ has provided a unique platform for fashion, design, visual arts, and related disciplines. By presenting the work at various extraordinary locations and creating an inspiring route through the city, SALON/ initiates a new awareness of the impact of the 'creative community'.
26 June - 28 August 2014
This project is supported by Het Amsterdams Fonds voor de Kunst.


Korzo Theater — Den Haag


Siba Sahabi had been working on her new project Qaina at the Korzo Theatre with choreographer Iván Pérez Aviles, composer Rutger Zuydervelt, and dancer Sara Toscano.
The project Qaina is generously supported by the Amsterdams Fonds voor de Kunst.
15 April 2014



Nox / Pols Potten — Amsterdam

Nox is the Greek goddess of the night and the name of a new series of candle sticks by Siba Sahabi for Pols Potten.
The three candle sticks made out of metal are available by in black and koper.

The Aram Gallery — London

In February 2014 The Aram Gallery will open a new exhibition exploring the uses of two materials in contemporary design; cardboard and paper. Whilst the use of cardboard is frequent and even expected in the prototyping stages of design, it is less commonplace to see finished designs made from it.
This exhibition brings together a selection of designs which are constructed predominantly or solely from cardboard or paper. Furniture sits next to jewellery, inviting comparison on the versatility of these materials. The scope of products on show describes the potential of these everyday materials when in the hands of these selected and talented practitioners:
Cottrell & Vermeulen Architecture Ltd, Siba Sahabi, Will Shannon, Pia Wüstenberg, Debbie Wijskamp amongst others.
21 February - 21 April 2014

Museum Our Lord in the Attic — Amsterdam

As part of the winterSALON/2014 Siba Sahabi gave a lecture about her new project entitled Qaina based on oriental dance. The presentation was combined with live music by Jamil Al Asadi and Andy Kooren and a dance performance by Sara Toscano. The event took place at the beautiful saloon of the 17th century of Amsterdam's second oldest museum Our Lord In The Attic.
06 February 2014
The presentation was realized with the support of:


Art Factum Gallery — Beirut

On February 5th 2014 the Art Factum Gallery in Beirut debuts the works of the Pakistani artists Asif Ahmed, Atif Khan and Muzzumil Ruheel, combined with vases of the series Between Two Rivers. The show will envelope cultural, illustrations based works and will open up the viewer's eyes to exceptional contemporary art found in Europe and the Middle East.
5 February - 07 March 2014

Dutch Design Week — Eindhoven

Sherazade will be presented at Strijp T at the showroom of Betul Canbaz as part of the DDW 2013.
19-27 Oktober 2013

Beurs van Berlage — Amsterdam

With its pop-up shop in the heart of Amsterdam Dutch Design Year is searching for boundaries between design and vintage products. Raw, neon, craft and avant-garde; in dialogue, but certainly looking for confrontations with the architecture of the Beurs van Berlage, Amsterdam's formal stock exchange.
28 August 2013 - 01 January 2014

Fiori Salone Design Week — Milan

This year, the jubilee exhibiton of Tuttobene specifically aims to encourage designers who manifest an ecological, social or economic vision within their projects. For example, Aliki van der Kruijs visualises climate change due to rain increase, while Siba Sahabi reflects on social structures in the European and Middle Eastern ceramic traditions.
9 -14 April 2013

Castle Keukenhof — Lisse

The Castle Keukenhof is located on the charming Keukenhof estate opposite from the famous tulip exhibition with the same name. In collaboration with contemporary artists and designers, the exhibition FLOWERCASTLE offers a platform for reflection on work inspired by craftsmanship and cultural heritage. The series Between Two Rivers is presented in the Porcelain Salon
of the 17th century.
14 March -16 June 2013

Museum Ons' Lieve Heer op Solder — Amsterdam

The new collection of felt vessels entitled Between Two Rivers is launched during WinterSALON/ 2013. The felt vessels and the short film are presented in the 17th century kitchen of the Museum Ons' Lieve Heer op Solder. SALON is an initiative that creates a crossover experience to inspire and instigate a discussion and dialogue between art, design and fashion. The Winter 2013 edition takes place at various locations in Amsterdam including Amsterdam Museum, Droog, and Grachtenmuseum. Visitors can experience the creative works of both well-known and emerging artists/designers in different contexts, so creating a dynamic, interactive and social event.
19 Januar -17 February 2013
The presentation was realized with the support of:


Lecture by Siba Sahabi — Shenzhen

In China in September 2012 designers and curators including Anne de Grijff, Lex Pott, Siba Sahabi, Luca Marchetti and Emanuele Quinz gave lectures in conjunction with the exhibition Basic Instincts. An expert forum on Dutch and Chinese creative culture also took place.
29 September 2012

Mint — London

For this year's LDF at Mint Lina Kanafani has chosen a selection of works including Siba Sahabi's candlestick series Istanbul Twilight sharing in common originality, creativity and designers who resort to new concepts and methods in expressing their designs. A Spatial Surprise, as the name suggests, will showcase designs that embody a new and dynamic interpretations and manipulation of space be in a small or a large object.
September 2012 - January 2013

OCT Art & Design Gallery — Shenzhen

The travelling exhibition Basic Instincts has been opened in China by Timo de Rijk (Vrije Universiteit Amsterdam), Christine Vroom (Premsela), Cees de Graaff (SICA) and Renilde Steeghs (Dutch Ministry of Foreign Affairs' ambassador for cultural cooperation). The exhibition features objects - amongst others Siba Sahabi's tableware sculptures - photographs and scale models created by product designers, photographers and architects. It is cohosted in Shenzhen by Overseas Chinese Town Enterprises Co. (OCT) and the SICA Dutch Centre for International Cultural Activities.
29 September - 22 November 2012

London Design Festival — England

The exhibition A Spatial Surprise received one of the best receptions during the Brompton District Private View and the excitement at Mint continued throughout the whole week of LDF.
14th-23th of September 2012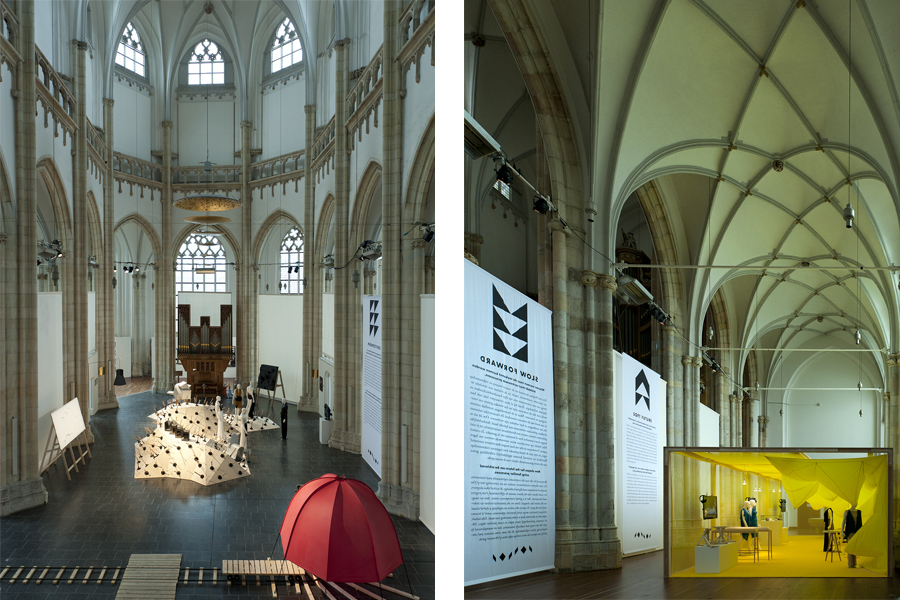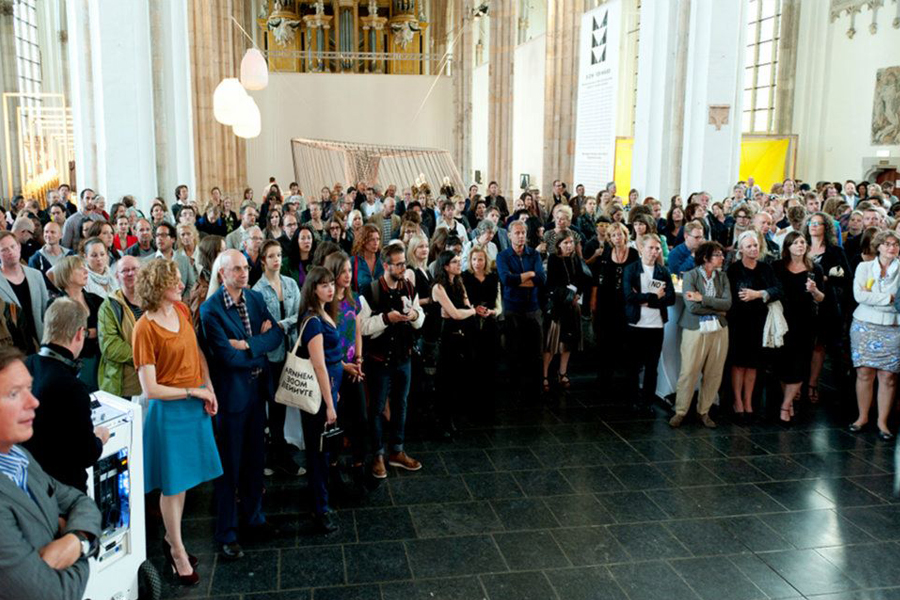 Eusebiuskerk — Arnhem

The series Kerameikos and Bucchero are part of the exhibition Basic Instincts by Premsela and Museum voor Moderne Kunst Arnhem alongside work by more than 40 designers, architects and artists. The exhibition interprets contemporary Dutch creative culture and strives to imagine the future through the present.
1 - 31 July 2012

Saatchi Gallery — London

The prestigious fair Collect at the Saatchi Gallery, London presented 31 of the world's finest international galleries representing exceptional
work of museum quality from their portfolio of artists including Siba Sahabi's candlestick series Istanbul Twilight via Gallery Sofie Lachaert.
11 till 14 May 2012

Villa Elisabeth — Berlin

The multidisciplinary exhibition Basic Instincts has arrived in the Villa Elisabeth as an ode to creative crossbreeding. Basic Instincts shows Siba Sahabi's Paperporcelain alongside work of leading Dutch fashion designers, product designers, architects and photographers.
Download the free, information-packed Basic Instincts iPad catalogue
1 to 31 July 2011

Opening of Basic Instincts — Berlin




The new exhibition by Premsela that reveals creative connections between Dutch fashion, design, art and architecture has opened in Berlin to rapturous applause. The exhibition includes the Kerameikos and Bucchero series.
30 June 2011





Siba Sahabi — info@sibasahabi.com — Amsterdam — +31 (0)6 141 734 37 — stay informed with Siba's NEWSLETTER